Regular price
Sale price
$1,417.00
Unit price
per
Sale
Sold out
The John Deere 6068 6.8T/H Powertech Overhaul Kit is a high-quality replacement kit for John Deere 6068 6.8T/H Powertech engines. This kit includes all the necessary parts to refurbish your engine, including pistons, rings, bearings, and gaskets. It is designed for use in agricultural applications, and it is made of durable materials that can withstand the rigors of the outdoor environment. This overhaul kit is a cost-effective solution for rebuilding your engine and restoring its performance. Keep your farm equipment running smoothly with the John Deere 6068 6.8T/H Powertech Overhaul Kit. With a one year unlimited mileage warranty, you can trust that it's built to last.

This engine over haul kit is engine specific and will require additional information to ensure proper fitment. Please review your engine serial number and preferred piston sizing prior to purchase. We will contact you prior to shipping your order, so please leave your best contact information on your order. If you are not sure this is the best kit for you, feel free to call us at 1(800)961-9290 to speak with a salesperson. 
ENGINE SERIES:   
PowerTech
ENGINE DATA:
4810, 4820, 4824
ENGINE DIMENSIONS:
Bore: 4.19 in / 106.5 mm
Pin Ø: 1.6250 in / (+/- .0002) = 41mm
CON ROD (M):   
R114081, R500335
PISTON (M):   
RE55512, RE505102
Additional Application Information: 
Farm Tractors
6605
6603
6615
6715
7210
7405
7410
7510
7610
7505
7515
7520
7715
7810
7815
4700
9400
4710
4990
9450
4995
6125J
6515
6130J
6145J
6610
6165J
6180J
6620
6910S
6920S
6810
7185J
6820
7205J
6910
9470STS
7220
SE6520
7320
SE6620
SE6920
7420
740
330
Combines
9410
1165
1170
1175
1450
1470
1550
2254
3518
9540WTS
W210
Excavators
200LC
200CLC
230CLC
230LCR
270CLC
270LC
360D
460D
690E
Wheel Loaders
544H
544J
624H
TC54H
TC62H
Log Loader
2054
624HLL
2554
335C
430B
435C
437C
544HLL
Skidders
540G
540GLL
548G
548GII
548GIII
640G
640GII
640GIII
648G
648GII
648GIII
Feller Bunchers
643G
643H
653E
653G
843H
843G
648G
Engine Model
6068HBM02
6068HBM03
6068HBM04
6068HCQ01
6068HCQ04
6068HCQ06
6068HCQ60
6068HCQ61
6068HDW50
6068HDW53
6068HDW55
6068HDW56
6068HDW59
6068HDW60
6068HF120
6068HF150
6068HF157
6068HF158
6068HF250
6068HF252
6068HF254
6068HF258
6068HF275
6068HH050
6068HH051
6068HH052
6068HL270
6068HL271
6068HL272
6068HLA70
6068HLA71
6068HLA72
6068HLA73
6068HRT72
6068HRW01
6068HRW63
6068HRW71
6068HT050
6068HT051
6068HT052
6068HT053
6068HT054
6068HT055
6068HT056
6068HT057
6068HT059
6068HYC53
6068HZ050
6068HZ060
6068SFM50
6068TBM01
6068TBM02
6068TBM03
6068TCQ01
6068TCQ02
6068TCQ03
6068TCQ11
6068TCQ12
6068TCQ13
6068TCQ14
6068TCQ18
6068TCQ50
6068TDW50
6068TDW51
6068TDW52
6068TDW54
6068TDW55
6068TDW56
6068TDW57
6068TDW58
6068TE050
6068TE051
6068TF157
6068TF158
6068TF220
6068TF250
6068TF252
6068TF258
6068TF275
6068TFM50
6068TFM75
6068TFM76
6068TJ07
6068TJ11
6068TJ12
6068TJ14
6068TJ31
6068TJ32
6068TJ61
6068TJ62
6068TL050
6068TL051
6068TL052
6068TL053
6068TL071
6068TL072
6068TL074
6068TLA50
6068TLA51
6068TLA52
6068TLA53
6068TN050
6068TN052
6068TP051
6068TP055
6068TP056
6068TP057
6068TP058
6068TRW50
6068TRW51
6068TRW52
6068TRW53
6068TRW54
6068TRW70
6068TRW73
6068TT050
6068TT051
6068TT052
6068TT053
6068TT055
6068TT057
6068TT058
6068TT061
6068TT852
6068TTJ50
6068TTJ51
6068TYC50
6068TYC51
6068TYC52
6068TJ08
6068TJ04
6068HRW59
6068HRW70
6068TF150
6068TP053
6068TF151
6068TP053
6068TF158
6068TP054
6068TF275
6068TT056
6068TN051
6068TT060
6068TN054
Sdmo-Generator
J120U
R130U
J130K
R135
J150U
R165
J165K
R170U
J175U
R200
J200K
R200U
View full details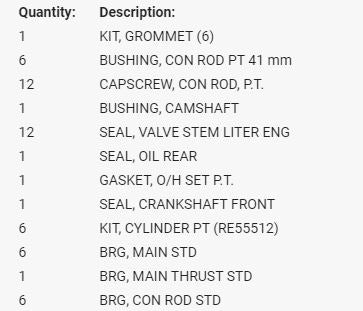 Policies
Warranty

Warranty Summary:

Diesel Care and Performance offers products with various warranty coverage. Our 3 main warranty options are Refurbished, Standard, and Premium. The warranty terms and conditions of each warranty option are the same, varying only in length of coverage. High performance products will not carry a warranty of any kind. All specific warranty coverage options are listed in the product description. For more information, please click here.

REFURBISHED

STANDARD

PREMIUM

Installation of our products constitutes your agreement with the following warranty disclaimer. Please do not install our products until you have read, understand and agree to the following warranty policy. 

WARRANTY TERMS

Diesel Care and Performance Inc. hereafter mentioned as DCP, issues the following warranty on all DCP product. This warranty is extended to the original purchaser of the product only, unless approved of in writing by DCP. Our product is warranted to be free from defects in material or workmanship under normal use and service, for a period of one year from the original purchase date. The obligation of DCP under this warranty is limited to the repair or exchange of the defective unit. Either repair of unit or replacement of the unit shall be at the sole discretion of DCP. If an exchange unit is provided, the old, defective unit must be returned within 15 days of the failure date to be considered for warranty. DCP warranty agreement is limited to one year from product purchase, unless otherwise stated at time of purchase of premium (2 year) or extended warranty terms.

WARRANTY DISCLAIMERS

This limited warranty is in lieu of all other warranties, either expressed or implied. All obligations or liabilities of DCP are expressly disclaimed, including claims for REMOVAL AND REINSTALLATION expenses, liability of consequential damages, down time, loss of revenue, or any other inconvenience cost. Our product is intended to be installed by the purchaser of DCP product. Any damage or defect caused by a third-party installer is the sole responsibility of the original purchaser of the product. In addition, DCP is not responsible for any R & R expenses, liability of consequential damages, down time, loss of revenue, or any other inconvenience cost relative to third party installers of our product. Any product that is not installed according to the manufacturer's guidelines is not covered under any warranty by DCP. DCP assumes no liability or responsibility for pump failure that are the result of the use of fuels and/or additives not approved by the original manufacturer of the engine and/or vehicle. This warranty does not apply to any part or unit that has been altered or repaired by anyone other than DCP. Nor, to any product which has been subject to misuse, abuse, neglect, accident, improper installation, or damage from foreign material such as water or dirt. This warranty will only be honored at the facilities of DCP.
Refunds

Refund Summary:

Diesel Care and Performance will only refund the full product amount if product is return within 30 days of the delivery date and is uninstalled. Shipping cost will not be refunded under any circumstance.
If your product is already installed, or falls outside our 30-day window, Diesel Care and Performance reserves the right and discretion to impose a 20% restocking fee of the product value. If a product is returned after 90 days from the order date, Diesel Care and Performance reserves the right to impose a 40% restocking fee.
Diesel Care and Performance will not allow any product to be returned for credit for orders older than 6 months, regardless of circumstance. Again, no credit will be issued on any order older than 6 months.

This is a summary of our complete refund policy. For a complete copy of our Refund Policy, please click here.