Regular price
Sale price
$2,800.00
Unit price
per
Sale
Sold out
Our AFC PT Fuel Injection Pump is the ultimate solution to maximize the performance and durability of your diesel. With nearly 20 years of experience in the diesel aftermarket parts industry, we have become experts in providing the highest quality fuel injection pumps available for your diesel engine.
Please call us before purchasing or after purchase with the Engine Serial Number and CPL call us at 1(800)961-9290 and we would be happy to assist you. 
Over time, these injection pumps can experience normal usage damage, which is why we have identified key components that contribute to their failure. If you're experiencing an overall loss of power, engine stalling or misfiring, smoke, or fuel leaks, it could be a sign that your fuel injection pump is failing.
For your peace of mind, we stand behind the quality of our product and offer a one-year unlimited mileage warranty. Join the thousands of satisfied customers who trust our products to keep their engines running at their best. Order now and experience the difference for yourself! With our AFC PT Injection Pump Fuel Injection Pump, you can rest assured that your engine is in good hands. 
This product contains an item which is sold exchange, meaning the used unit, or 'core' must be returned within 35 days of order shipment. 
The core charge is included in this price once the core is received and cleared as like for like you will be refunded $600.00. If the core is considered not like for like you will receive half core credit back which would be in the amount of $300.00
View full details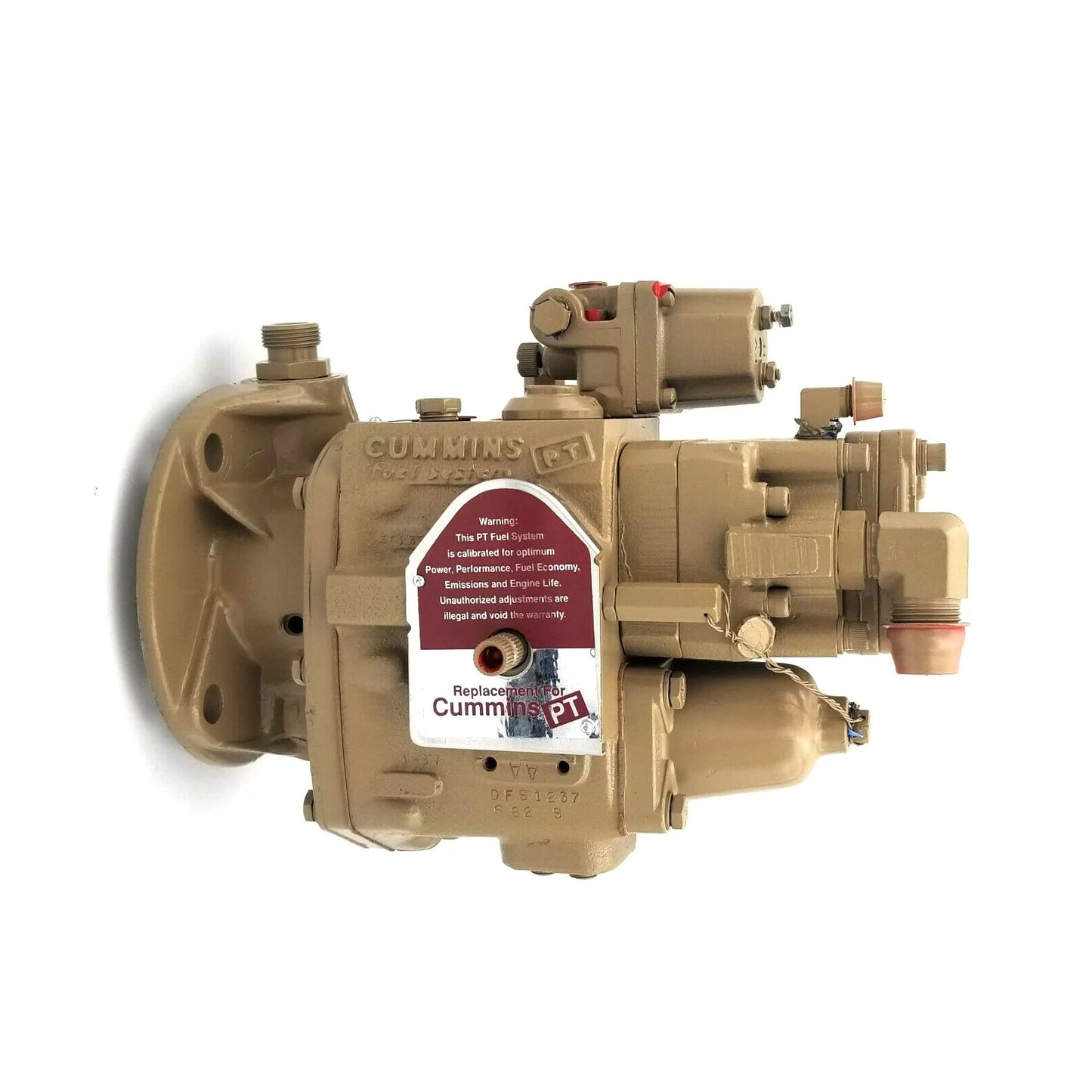 Policies
Warranty

Warranty Summary:

Diesel Care and Performance offers products with various warranty coverage. Our 3 main warranty options are Refurbished, Standard, and Premium. The warranty terms and conditions of each warranty option are the same, varying only in length of coverage. High performance products will not carry a warranty of any kind. All specific warranty coverage options are listed in the product description. For more information, please click here.

REFURBISHED

STANDARD

PREMIUM

Installation of our products constitutes your agreement with the following warranty disclaimer. Please do not install our products until you have read, understand and agree to the following warranty policy. 

WARRANTY TERMS

Diesel Care and Performance Inc. hereafter mentioned as DCP, issues the following warranty on all DCP product. This warranty is extended to the original purchaser of the product only, unless approved of in writing by DCP. Our product is warranted to be free from defects in material or workmanship under normal use and service, for a period of one year from the original purchase date. The obligation of DCP under this warranty is limited to the repair or exchange of the defective unit. Either repair of unit or replacement of the unit shall be at the sole discretion of DCP. If an exchange unit is provided, the old, defective unit must be returned within 15 days of the failure date to be considered for warranty. DCP warranty agreement is limited to one year from product purchase, unless otherwise stated at time of purchase of premium (2 year) or extended warranty terms.

WARRANTY DISCLAIMERS

This limited warranty is in lieu of all other warranties, either expressed or implied. All obligations or liabilities of DCP are expressly disclaimed, including claims for REMOVAL AND REINSTALLATION expenses, liability of consequential damages, down time, loss of revenue, or any other inconvenience cost. Our product is intended to be installed by the purchaser of DCP product. Any damage or defect caused by a third-party installer is the sole responsibility of the original purchaser of the product. In addition, DCP is not responsible for any R & R expenses, liability of consequential damages, down time, loss of revenue, or any other inconvenience cost relative to third party installers of our product. Any product that is not installed according to the manufacturer's guidelines is not covered under any warranty by DCP. DCP assumes no liability or responsibility for pump failure that are the result of the use of fuels and/or additives not approved by the original manufacturer of the engine and/or vehicle. This warranty does not apply to any part or unit that has been altered or repaired by anyone other than DCP. Nor, to any product which has been subject to misuse, abuse, neglect, accident, improper installation, or damage from foreign material such as water or dirt. This warranty will only be honored at the facilities of DCP.
Refunds

Refund Summary:

Diesel Care and Performance will only refund the full product amount if product is return within 30 days of the delivery date and is uninstalled. Shipping cost will not be refunded under any circumstance.
If your product is already installed, or falls outside our 30-day window, Diesel Care and Performance reserves the right and discretion to impose a 20% restocking fee of the product value. If a product is returned after 90 days from the order date, Diesel Care and Performance reserves the right to impose a 40% restocking fee.
Diesel Care and Performance will not allow any product to be returned for credit for orders older than 6 months, regardless of circumstance. Again, no credit will be issued on any order older than 6 months.

This is a summary of our complete refund policy. For a complete copy of our Refund Policy, please click here.